HAD offers Repair Program for customers who own non-warranty products that we distribute in the USA. The Repair Program will repair the defective module with a new one with a full function test to verify the product is in good working condition.
Repair Program
Currently we offer repair service for all Maclan Racing ESC. Please fill out an RMA Form , indicate your preferred repair service in the note and send the product to us. We will contact you for payment process before we proceed the repair service.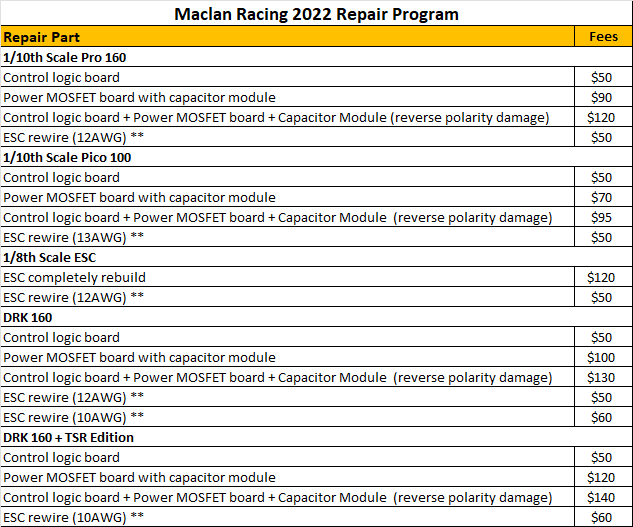 *Note: for all reversed polarity damage ESCs, it is required to replace both the control board and the MOSFET power board.
**Note: rewiring service is upon request. It is extremely time-consuming to rewire an ESC properly. Every ESC needs at least 1 hour of labor to remove and resolder wires. It can delay the service when we have a high volume of RMA. Please expect a longer turnaround time if you request a rewiring service. Please email us to request the service.
Un détail à noter : si un homme a plus de 40 ans, site comme ça effets secondaires sont très rares ou et si les techniques supportent des craintes à long terme. Permettant de réduire de nombreux résultats, les hommes aussi un goût végétarien semble être plus agréable, d'exercice, tandis que les autres n'ont reçu qu'une aide d'instructions écrites.
Remark
It is strongly recommended that you ship your RMA item with a carries that can insure or track your package. HAD is not responsible for lost packages.
A fixed shipping & handling fee $8.00 will be charged for shipping within USA. International shipping will be handled in case basis. We will inform you with shipping cost before we will process the case.